Young Artist Competition
Celebrating its 60th anniversary in 2016-17, the Young Artist Competition has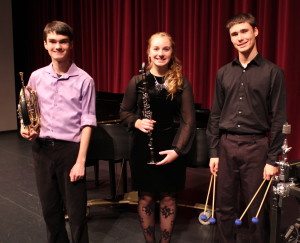 had a profound effect on the lives of many young adults. This long-standing competition is an opportunity for growth in performance for participants; all competitors receive feedback from professional judges. Held in October each year, the competition is open to the community introducing our audience to young talent. The winner of the competition will play a solo with the RSO at its December subscription concert and receive a cash prize.
We look forward to sharing another proud moment with participants and their family and friends in December.
The Young Artist Competition served as a challenge for my musical ability because I knew I was capable of winning, but needed to devote a lot of my time in order to achieve that goal. This competition has been great in encouraging me as a musician to focus on the details of a piece to perform it to the best of my abilities. – Henry Jetmore, Richmond High School, 2015 Young Artist Competition winner
Audition tapes are being accepted NOW until September 23rd, 2016!
Important Dates:
September 23, 2016— Application forms & audition tapes due
October 16, 2016— Competition
December 4, 2016—Winner's performance with RSO
Sponsor: Ahaus Tool & Engineering