Young Artist Competition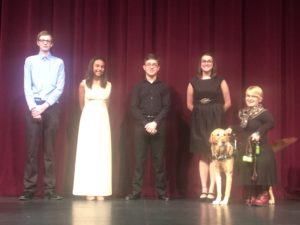 Celebrating its 62nd anniversary in 2018, the Young Artist Competition has had a profound effect on the lives of many young adults. This long-standing competition is an opportunity for growth in performance for participants; all competitors receive feedback from professional judges. Held in October each year, the competition is open to the community introducing our audience to young talent. The winner of the competition will play a solo with the RSO at its December subscription concert and receive a cash prize.
We look forward to sharing another proud moment with participants and their family and friends in December.
Our 2017 finalists pictured here (L-R): Dalton Girdley, Mirabella Troncoso, Noah Freeman Burch, & Danyell Huber. Also pictured, Amy Sekhar and Max.
The RSO is pleased to announce the 2017 Young Artist Competition winner – Dalton Girdley. On December 3, 2017, Dalton performed the 3rd movement, "Rondo," from Carl Maria von Weber's Concerto No. 1 in F minor. Congratulations, Dalton!
Important Dates:
September 28, 2018 Application forms & audition tapes due
October 28, 2018 Competition
December 2, 2018—Winner's performance with RSO
Sponsor: Jeevan & Amy Sekhar