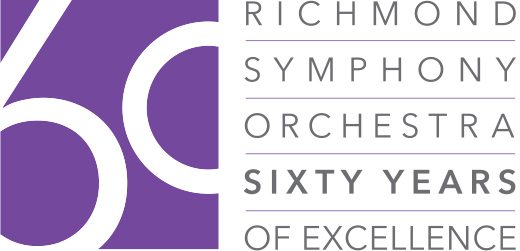 Celebrating 60 Years of Excellence
When an organization approaches a milestone, no doubt there will be a moment of reflection.  There are many audience members who can attest to the consistent quality of the Richmond Symphony Orchestra, musicians who have played with passion, and conductors who have brought excellence to the stage.  While we are incredibly thankful for the foundation that has been laid over the past 60 years, we feel a momentum launching us into the next 60 years.  There is an energy building within the Symphony, yes, but also in the community.  There is a growing appreciation for the arts and a desire to celebrate culture while embracing the charm of a well-connected region.
We recently received a grant from West End Bank to take RSO ensembles into the community 10 times throughout the year performing what we call "community concerts".  We will be at special events such as the Model T Homecoming Event, Meltdown Ice Festival, and Taste of Wayne County, sharing music with crowds who may have never been exposed to live symphonic performances. The RSO will also travel to the neighboring communities of Hagerstown, Centerville, Eaton, and Liberty.
We will continue providing students with engaging experiences to interact with the RSO.  The young artist competition allows students with a passion for music to learn and perform with professional musicians, and maybe, just maybe, they will become our next orchestra member or conductor or composer.  There is a spark – who knows where it could lead!
Welcome to the Richmond Symphony Orchestra's 60th season – "The Best Is Yet To Come"!
About Author