Section: Cello
Title: Principal
Praised by Fanfare magazine as a cellist of "striking ability," Cole Tutino has appeared as a soloist, chamber musician and orchestra member across the United States and Europe. His discography includes world premiere recordings of works by David Canfield and Mark Lehman, and two albums of chamber music for Native American flute: Embrace the Wind, and Mystic Voices Soaring, in collaboration with world-renowned flutist James Pellerite. He has also performed live on Indiana Public Radio.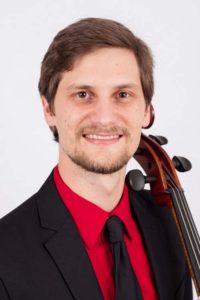 A proponent of a diverse array of musical genres, Tutino has also worked frequently in folk and pop music settings, particularly with the Good Shepherd Band of Clearnote Church (Bloomington, IN); his playing and arrangements can be heard at ClearnoteSongbook.com. He is also an advocate of new music and gave the world premiere of David Canfield's Sonata for Cello and Piano, "Ordo Salutis," a unique work which depicts Christian tenets of salvation. An advocate of historically informed performance practice, he has performed on Baroque cello with the Indiana University Baroque Orchestra, the Georgina Joshi Handel Project, and as part of the Bloomington Bach Cantata Project. He has been a member of the Columbus Indiana Philharmonic, the Terre Haute Symphony Orchestra, the San Francisco Symphony Youth Orchestra, and the Utah Festival Opera Orchestra; and he has performed at the National Orchestral Institute, the Brevard Music Festival, the Mendocino Music Festival, and the Las Vegas Music Festival.
Tutino is currently Visiting Instructor of Cello at Miami University in Oxford, OH, where he teaches applied cello and aural skills. He has also served as Visiting Instructor of Cello at Luther College in Decorah, IA. Born and raised in the San Francisco Bay Area, he earned his Bachelor's in Cello Performance at San Jose State University, where he studied with Jennifer Kloetzel and the Cypress String Quartet. He studied with János Starker at the Indiana University Jacobs School of Music, where he earned his Master's and is currently pursuing a Doctorate in Cello Performance under the direction of Emilio Colón. His research interests include lesser-known cello works of the Romantic era. He lives in Hamilton, OH with his wife, Selena, and his daughter, Evangeline.