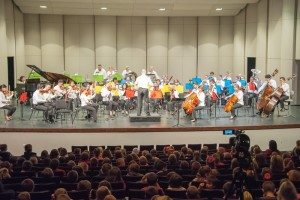 The Richmond Symphony Orchestra exists to enhance the quality of life in east central Indiana and west central Ohio.  Symphonic music of the highest caliber is provided in live perfomances and music education in the schools and community.
Under the 20–year leadership of Guy Victor Bordo, the RSO has expanded to include a six-season concert series, two annual youth competitions, three children's concerts, and numerous community events.
The Richmond Symphony Orchestra has origins going back to 1908, but it was professionalized and incorporated in 1956 by Manfred Blum. Richmond continues to be one of the smallest communities (if not the smallest) to nurture and support a professional symphony orchestra for 60 consecutive years.