My Approach to Special Events
This is blog 2 of 3 describing the behind-the-scenes details of the RSO's signature events!
Click here for blog 1: "History of the Signature Event"
Click here for blog 3: "Bringing Out a Theme"
---
For people who don't know a symphony, it can be a somewhat scary thing to attend. When I first moved to town I had never been to a symphony concert, never heard classical music. I wouldn't have gone in there unless I was helping volunteer when I realized, oh, I kind of like this. So we want to translate the signature event to an experience at the symphony. That's my only goal—to get people to understand that we have a symphony in Richmond, Indiana, that it's thriving, and that it's really good.
What I love about doing special events for the RSO is the puzzle—putting the pieces together to make a fun, cohesive event. I break it down into four pieces: budget, venue, visual, and the entertainment. I like looking at all these pieces and seeing what I can do to make it a Beatles event, but also a 60s event.
Not everyone likes working with a budget, but I need parameters to be able to build from. That, and the theme, are what guide my choices. And, of course, how can I top last year's event without going over budget?
For the venue, I know I need to be able to fit the orchestra, as well as enough people to get the tickets to make the whole project worth your while. Fitting the orchestra into the venue presented a few challenges—at Forest Hills, we had the orchestra perform in the ballroom and then the guests went to a tent on the driving range for dinner (though one year we tried presetting the tables and flipping the ballroom while guests went outside—that was scary, carrying the tables down the ballroom stairs!). It wasn't until the Boogie Woogie Ball at the Richmond Airport when we had a space where all the entertainment could be in one room.
We had about 15 years of doing a buffet or food stations, but that's not conducive to an auction, because people are leaving for food. I like the energy of people being together, as close as they possibly can be, so they share the vibe of the room. With Boogie Woogie Ball we switched back to the served plated meal, because we had so many veterans, and I didn't want them getting up to get their meal. It's harder for the caterer to get the staffing worked out so everyone is fed in an appropriate amount of time, but it's worked out.
When it comes to the Kuhlman Center, where we held this year's event, the challenge is that everyone knows it. How do I make it look different from other events people have attended? Which brings me to
The visual—how do I make this event visually fantastic? This is the piece that is really exciting for me. For this year's event, I started thinking about the visual before Shake, Rattle and Roll was done.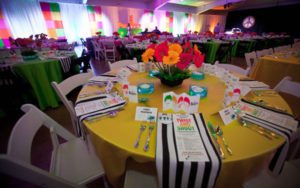 Trying to tie the aspects of the Beatles albums together is a challenge. I first had a vision of all the tables in lines, where each row was an album, and each table was a song from the album—each table could be decorated for the specific song. But this proved too time consuming, and wasn't cohesive (not to mention too expensive). So each row was named for an album, but it stopped there. Last year we had pins for people to match their table—this year we gave them wristbands that told people which "album" they'd be at, and what table. We had Volkswagon name cards too. We had flower arrangements of Gerbera daisies, since the daisy is so iconic of the 60s, and glow sticks in the flower arrangements that you can make into necklaces and bracelets. It's simpler than last year, when we had gumballs, toy soldiers, paddle balls, yo-yos; I didn't want that look this year. Time-wise, when you're prepping that many tables, you need something efficient; you have to rely on the committee to put those together, and we'll have 60 or 70 tables. I'm really cognizant of not wasting the committee's time—they're volunteers, they sacrifice their time, so you'd better have setup prepped like clockwork.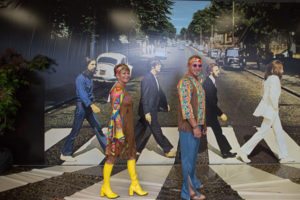 Our entrance area was Abbey Road, and guests could take a photo in the crosswalk with the Beatles (Tara had to work with the scale on that image to make sure the heights of the Beatles and the guests would match). One of the songs from Abbey Road, "Octopus Garden in the Shade," inspired our champagne station by the entrance—we had an 8 foot octopus on the wall, and the champagne was in an aquarium with small octopi. Yellow Submarine Way went down the middle of the room to the Yellow Submarine bar on the far wall (another great photo opportunity!).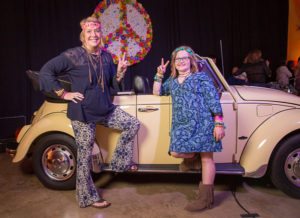 Since it's also a 60s event, we had our fabulous go-go dancers (the IU East Pack Attack cheer squad) along one wall; a Flower Power photo op in one corner, with a VW Bug and a 6-foot peace sign made of flowers on the wall made by our great committee; and a corner devoted to American Bandstand, with a replica of their bleachers—the RSO Singers performed from there, and we had our own Dick Clark with Rick Duncan. This year we used a stage for the first time, so that everyone could see the orchestra, and we put our dance floor in front of it. We also used a lighting engineer for the first time, so we had different colored lighting on the different walls, floor, and ceiling to bring out the colors of the 60s.
The orchestra has only been a part of the entertainment for the last nine events. The event theme drives the music choices—"Four Seasons" and "Baroque Bouquet" are some early ones. Since I always envisioned this event featuring the Beatles, we needed to find a tribute band that was not only very good, but could perform with an orchestra. After vetting a bunch of bands with Guy, we found the Liverpool Legends. Louise Harrison—George Harrison's sister—formed the band in Branson, Missouri. They just played Carnegie Hall! They hadn't worked with an orchestra before, but they were game to try it. Louise often travels with the band, but she fell recently and couldn't come on this trip.
Before the orchestra was a part of the event, the primary entertainment was the auction. Now we do a needs-based auction, which tends to go pretty quickly—it's finished in about 8 minutes. The last element of my planning was figuring out our auctioneers—we had our own Fab Four of Richmond. I had my list of people I thought would be good at it, but not everyone wants to get up there. That's a scary place to be! And what do you do if no one bids? But we helped with a script to make it go precisely and quick. Fortunately, Jeff Jackson, Kathy Cruz-Uribe, Dave Snow, and Dave Jetmore all agreed to do it, and they were absolutely marvelous.
Planning these events takes a lot of time and hard work, but there's nothing more fun than load in day for me, when it all comes together!
About Author