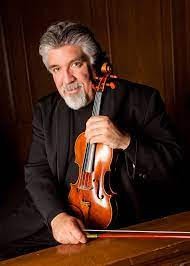 Cárdenes Plays Tchaikovsky
October 23, 2021 @ 7:30 pm
We are treated to a variety of musical genres this month: an exciting brass fanfare, a famous symphony, and a much-loved concerto.
Featuring our brass section is the mighty fanfare to Dukas' ballet La Péri. Next, Franck is represented by his most famous composition, the 1888 Symphony in D minor.
Returning is renowned violinist Andrés Cárdenes to perform Tchaikovsky's monumental Violin Concerto in D major.
Dukas-Fanfare to La Peri
Franck-Symphony in D minor
Tchaikovsky-Violin Concerto, featuring Andrés Cárdenes, violin