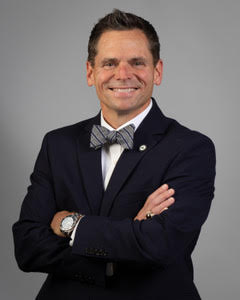 Never would we have imagined a year without the Richmond Symphony Orchestra in Civic Hall. And yet, this was last season's story. But as they say, "the show must go on." Thanks to the creativity, commitment and continued partnership of the board, staff, and musicians, music was heard and experienced in parks, gardens, on neighborhood lawns, and next to golf course greens. Community members were invited to sit, stroll, and surround themselves with an eclectic mix of exceptional music in a safe and inviting atmosphere. While the doors to Civic Hall were closed, music permeated our community and the music and mission of the RSO continued!
Thankfully, due to careful and conscientious planning, the RSO has returned to Civic Hall. It is with a triple forte declaration we say, "Right Here, Right Now!" Here is where we both celebrate the tradition of the RSO and appreciate the music of a new season. Now is the time to gather and experience the richness of the RSO, right here, right now!
In the RSO's return to Civic Hall, we celebrate Maestro Guy Victor Bordo's twenty-five years as music director and conductor. In his final season with the RSO, we give thanks for his energy, commitment, and vision. The RSO has been fortunate to have Maestro Bordo hold the conductor's baton for more than two decades and lead the Symphony with excellence.
This year's program includes familiar melodies such as Carmen Suite No. 1, the work of Tchaikovsky, notable string pieces to include St. Paul's Suite, classics by great masters such as Mozart and Mendelssohn, a Morris-Cello commissioned concerto performed by Andres Dias, as well as music from popular movie scores from Batman to My Fair Lady.
A special thanks to our sponsors, donors, season ticket holders, and everyone in our community who helps to make the RSO such a success. Your faithfulness of generosity sustains the superb work of the RSO and signifies the importance of the arts in Wayne County. The music and musicianship of the RSO is a gift received by concert goers, as well as those attending RSO community outreach activities, especially students in Wayne County, Indiana.
Mark your calendar now for the RSO signature event on April 30, 2022, "Show Me the 90's." It will be a wonderful evening of music, food, and dancing as we continue to celebrate the ongoing music and mission of the Richmond Symphony Orchestra.
I hope you enjoy this 65th season of the RSO — "Right Here, Right Now!"
Jeff Carter