September Spotlight: Colin Lambert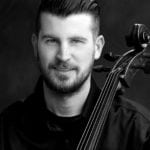 Each month, the RSO introduces you to a member of our orchestra. This month, get to know Colin Lambert!
Colin Lambert earned his Bachelor's degree in 2011 in Cello Performance from Ohio University in Athens, Ohio where he studied with Dr. Michael Carrera, spent two years as principal cellist of the OU Symphony Orchestra, and in his final year was a winner of his school's Student Soloist competition. Colin went on to attend the Chicago College of Performing Arts at Roosevelt University where he earned his Master's degree in Cello Performance in 2013. While there, he studied with Patrick Jee, the former Assistant Principal Cellist of the Lyric Opera Orchestra. Additionally, Colin has also played in master classes for Desmond Hoebig, Professor of Cello at the Shepherd School of Music at Rice University, and for the late Janos Starker, former Professor of Cello at Indiana University.
After finishing school in Chicago, Colin returned to his hometown of Cincinnati and has been building his career as an orchestral and chamber musician. He performs regularly in the Richmond, Kentucky, and Springfield Symphony Orchestras, among several others. Colin also teaches private lessons every week, and is a trained teacher of the Suzuki Method for cello.
About Author