Bringing Out a Theme
This is blog 3 of 3 describing the behind-the-scenes details of the RSO's signature events!
Click here for blog 1: "History of the Signature Event"
Click here for blog 2: "My Approach to Special Events"
---
My approach to designing events with a theme has evolved with my confidence, and my design skills. Early on, we'd create the great title, such as "I Heard it Through the Grapevine" or "An Evening in Paris", and we'd put that to the public with just the invitation—that was probably the only element of it. As I have grown, it's evolved. The main connection is with decoration—a casino setting with "Viva Las Vegas", our take on David Letterman with "Late Night With the Richmond Symphony Orchestra", going 1960s wacky with "It's a Mad Mad Mad Mad World". My favorite would have to be "Trading Spaces" in 2003. We decorated Forest Hills with ladders, drop cloths, paint buckets. The table centerpieces were paint roller pans, with candles floating in water and the rollers covered in flowers. This one just stands out—it was really different.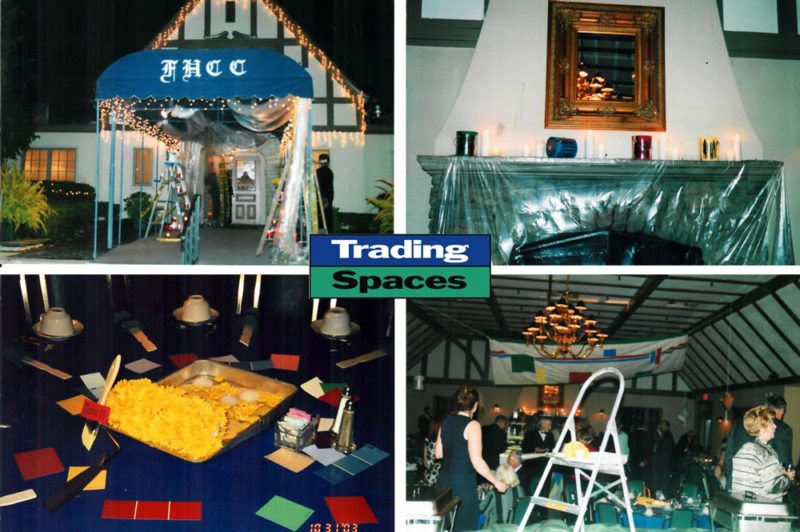 One year for Broadway, Kate Jetmore came and sang—my décor was garbage cans (because of New York) flipped over with ferns on them. We had mounds of salt on the table—I don't remember why, but I'm sure we had a reason! Still, those years were not nearly the level of décor we do now. "Under the Big Top" in 2013 was a whole other level – we had circus performers, trapeze artists, stilt walkers, and fire eaters.
The last 3 years has been really theme-oriented, which is fun—people like that different element. But events become very stale very quickly—there's an ebb and flow. One year you're the best event, and then the next year, you're down low because something new is on top. You have to change. Just because this formula worked this year, doesn't mean it will next year. You have to switch—and I enjoy that part
For 2015's Boogie Woogie Ball, the airport was the perfect setting, and we decorated with World War II and military inspiration. For "Shake, Rattle and Roll" at the Sports Plex, I envisioned a high school gym, like in Grease. I didn't think I could top the impact of the Boogie Woogie Ball, but the visual results of this topped it. The gym gives such a happy look—it brings up basketball games, school dances. We had bubblegum, hula hoops, 45's, paddle balls in our decorations; a 50s diner area for the bar; a drive in movie, complete with 50s cars; a locker room photo op area; and Richmond's Dire Straits roller derby team as our carhops!
The 60s had so much to use. I research everything I can possibly think of. I had forgotten some of the TV shows—you're too young, but I remember every bit of this. My parents worked, so I was basically watching TV. (Somehow include a reference to the other blog post that goes into all the details about this year?)
The invitations have gone increasingly over the top. Early on, you'd create the great title, and you would put that to the public by just your invitation—and that was probably the only element of it—the theme was strictly marketing through your invitation. This year, the invitations were large posters for the event.
Themes have encouraged people to come in theme dress the last few years. Some people are scared of this, but I LOVE dressing up, so this is mostly me. It's the last element to create the scene. We started encouraging it with "Under the Big Top" in 2013—I put "circus chic" on the invitation. People were like, "what in the world does that mean?" so I suggested a Steam Punk look. In 2014, "Polka and Dots" was an obvious one – polka dots – followed by the 40s look for "Boogie Woogie Ball" and the 50s look for "Shake, Rattle and Roll". This year we saw a mix of shift dresses with the go go dancers and teased up hair, and then the flower child, hippie look.
I'm already thinking of venues for next year, though I don't know what we're doing yet—I have some ideas, but I don't know yet. I think the 70s would be too predictable. I always visualized a three-year arc with the decades of 40s-50s-60s to time with our 60th anniversary. The 70s were my era, but I don't remember anything about them that would creatively entice me. But I could go a different direction with a movie or a Broadway show from the 70s, and try to recreate the experience from it. We'll see!
About Author