Wicked Jack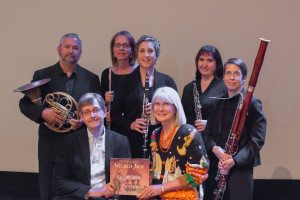 We are planning to offer Wicked Jack in Spring 2022. A date will be announced soon. Check back for up to date information.
Treat your fifth grade students to a free one-hour Halloween-themed production of Wicked Jack!
Join local children's author Connie Wooldridge as she brings her book "Wicked Jack" to life. Illustrator Will Hillenbrand demonstrates and discusses the creative process that formed the paintings in the book. Finally accompanied by a five-piece RSO wind ensemble, Mrs. Wooldridge will read the story along with a visual display of the book's illustrations set to "spooky" music!
Typically held close to Halloween, this free concert is available to fifth graders in Wayne, Union, Fayette, and Preble counties.
This concert made possible thanks to the generosity and support of JM Hutton.