The Richmond Symphony Orchestra is once again pleased to announce our participation in the Wayne County Foundation Challenge Match for 2019! Donations received by the RSO between November 4-12, 2019, will be matched dollar for dollar (up to $1,000 per donor) by the Foundation.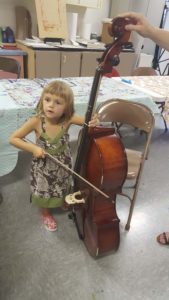 Being a part of the Challenge Match is an exciting opportunity for you to support the RSO and our mission to serve our community. We strive to maintain our current ticket prices and collaborate with regional school systems to provide a wide array of free concerts to our youth. Our musical programs reach over 4,000 young people in our community each year.
You also have a unique opportunity to make your contribution dollars go even further! An anonymous benefactor is once again providing a bonus match. This 2-for-1 match means that every $100 contributed by generous donors like you will generate $300 for the RSO's youth programming and concerts!
Will you help us use this match to ignite a spark of lifelong passion for music in the lives of our young people? Please consider supporting the Richmond Symphony Orchestra during this 9-day match period. Thank you for your generous support! Please don't hesitate to call the office at 765.966.5181 and ask for Monica if you have additional questions. You can make donations online at richmondsymphony.org. Remember to donate between November 4-12 to qualify for the match!