2020 Wayne County Foundation Challenge Match
How to Donate
Click Here to Donate Online
Mail a Donation 
Richmond Symphony Orchestra
P.O. Box 982
Richmond, IN 47375
Call our Office
(765)966-5181
A Letter from Our Board President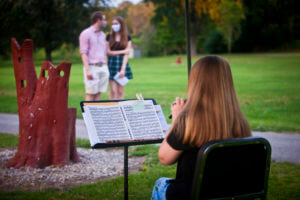 The Richmond Symphony Orchestra is once again pleased to announce our participation in the Wayne County Foundation Challenge Match for 2020. Donations received by the RSO between November 2-10, 2020 will be matched dollar for dollar* (up to $1000 per donor) by the Foundation.
Being a part of the Challenge Match is an exciting opportunity for you to support the RSO and our mission to serve our community by providing exceptional, inclusive music experiences that serve to enrich, entertain and educate.
Like so many other organizations in the community, this year has been challenging as we have  had to find new and creative ways of living out our mission. When it became clear that the RSO would be unable to return to the Civic Hall stage in September, we quickly pivoted and the RSO Sunset Series was born. This series has served to bring people out of isolation and into the community in safe ways, as well as introduce the orchestra to new audiences. The RSO is committed to ensuring the continuation of the series throughout the year, even after the orchestra is seated back on the stage.
Please consider supporting the Richmond Symphony Orchestra during this 9-day match period. This year, you have the opportunity to make your contribution dollars go even further. An anonymous benefactor is once again providing a bonus match. This 2-for-1 match means that every $100 contributed by generous donors like you will generate $300 for the RSO's continued outreach.
Thank you for your generous support! Please don't hesitate to call the office at 765.966.5181 and ask for Monica if you have additional questions. Please use the enclosed envelope to mail gifts to the office or make donations online at RichmondSymphony.org. Remember to donate November 2-10 to qualify for the match.
Sincerely,
Kathy Girten, President
How to Donate
Click Here to Donate Online
Mail a Donation 
Richmond Symphony Orchestra
P.O. Box 982
Richmond, IN 47375
Call our Office

(765)966-5181
*Wayne County Foundation Challenge provides 1:1 matching dollars
after RSO raises $10,000 in qualified donations to trigger the match
dollars. For more information, contact Monica.