The Richmond Symphony Orchestra is once again pleased to announce our participation in the Wayne County Foundation Challenge Match for 2021. Donations received by the RSO between November 1-9, 2021 will be matched dollar for dollar* (up to $1000 per donor) by the Foundation.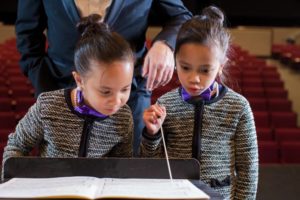 Like so many other organizations in the community, the RSO is approaching this year with a singular goal – to safely, fully restore our programming on the Civic Hall stage. When it became clear that the RSO would be unable to return to the hall last season, the symphony quickly pivoted to develop a series of outdoor community concerts that any and all could enjoy.
Building on the wild success of these concerts, the RSO is returning to stage for its 65th season with a full six-concert season. For the first time since February 2020, RSO will take the stage eager to enrich, entertain and educate.
Please consider supporting the Richmond Symphony Orchestra during this 9-day match period. This year, you have the opportunity to make your contribution dollars go even further. In honor of Maestro Bordo's final season at the helm of the RSO, First Bank Richmond is providing a bonus match. This 2-for-1 match means that every $100 contributed by generous donors like you will generate $300 for the RSO's continued outreach.
Thank you for your generous support!
Please don't hesitate to call the office at (765) 966-5181 if you have additional questions.
Remember to donate November 1-9 to qualify for the match.
Sincerely,
Monica Koechlein, Executive Director
Wayne County Foundation Challenge provides 1:1 matching dollars
after RSO raises $10,000 in qualified donations to trigger the match
dollars. For more information, contact the office.