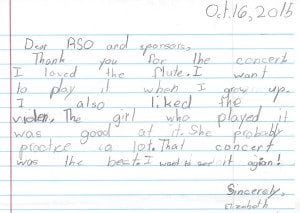 The Richmond Symphony Orchestra is pleased to bring free programming to 3500 children annually!  
Imagine capturing and keeping the attention of over 900 third graders for one hour! Conductor Guy Bordo does just that while introducing students to over 16 instruments and excerpts from Beethoven's Fifth Symphony, Copland's Rodeo, and many others. A lucky few will also be chosen to conduct the RSO on stage!
Introduce your fifth grade students to the artistry of the written word, illustration, and music. Local children's author Connie Wooldridge and illustrator Will Hillenbrand, accompanied by spooky music performed by the RSO quintet, bring "Wicked Jack" to life on stage!
Our newest program aims to help rising students make informed decisions about including orchestra or band in their school schedules. This program is offered at Test and Dennis Intermediate Schools to rising 6th graders.